Haunt Master Products

www.hauntmasterproducts.com


Have a favorite prop or creating a new one which you wish had glowing, fading on & off or color changing eyes? Then check these products out!
I came across this website and his products quite a few year ago. They are really cool and affordable. For the eyes he uses L E D's (available in just about every color) a small circuit board and a 9 volt battery snap for power (you also can purchase a "battery eliminator" which connects to the 9 volt battery snap and the other end you plug into a regular power outlet or extension cord) The "adjustable" eyes have a dial on them so you can adjust the speed you want them to perform at. Another feature of these eyes is that the L E D's have long wires on them so if you are adding them to a prop or decoration (if you are doing so a great way to attach & hide the wire to the prop is to use black hot glue sitcks) you have plenty of wire to get the L E D's where you need them to be and enough wire to hide it up against the prop.
Besides the L E D eyes Haunt Master Products also carry a flicker unit "IFC". This you plug in your light or candle prop into and then plug the flicker unit into a regular power outlet or extendsion cord. What this does its make whatever light item you have plugged into this (not for flourscent bulbs) and make it randomly flicker like a candle or shorted out light. If you get the chance to check out his website look around at all the other great products he makes and offers for sale, there are many different and very useful items he makes from light effect units, lightning effects to prop controllers.





Background Sound and FX's for your Haunt or Party


No matter if you are creating a Haunt or Halloween Party you will need some music, background sounds or FX's to set the mood.
Now days there is a huge variety of Haunt/Halloween music, background sounds or FX's to choose from. You can purchase cd's with these already made and mixed for you or you can use a sound mixing program for you computer like Audacity to create them yourself.
If you use Audacity you can take any audio tracks or any audio you record yourself and mix, warp, speed up or down, overlap, and adjust each tracks volume to create monster, ghosts, ghouls, screams, creature and many other charcters voices or sounds, background music or sounds with only the added sound items you want. This is very helpful considering many of the haunt sound background cd's have many different sounds mixed in them, perhaps some you don't want or care for in your scene.

Don't like the cd's that jump from sound to sound? If you do want specific sounds, voices or background music in your scenes then, here is one way to make just that!

First you need to download a Free program called Audacity. You can do this at http://audacity.sourceforge.net. Audacity is a program that allows you to take sound files (from 1 to as many as you want) mix them together, play one over another, add them anywhere in another track, add echo and many other effects to make a very unique sound combination or music track. This is software for recording and editing sounds. I use this program to make cd's for my scenes. You can also make tracks go back and forth between the left and right speakers (great for whispers in a hallway scene)! For example, if you had a scene that was a cemetery you could start out with a sound file of wind blowing then add a track of wolves howling. You could add as many different wolf sound files you wanted and place them in different sections of the wind howling. Also you can set the volume for each track so you could make some sound close up and some far away. You could do this with all of your individual tracks which allows you to have some sounds stand out more than others. You could then add more tracks of other items (zombie moans, shovel digging, owls, crickets, etc.) if you wish to custom make the sound you want for your scene. Where to get these sound files? There are many sites on the web where you can get background sounds, voices, and just about any sound you can imagine. Most of them you can just right click on and choose "save target as" this will allow you to save the sound file onto your computer in the folder of your choice for later use. Just make sure the sound file you are going to use is NOT copyrighted! Some are, some are not. If you are not sure send them an email and ask if you are free to use them. You can also use Audacity to make your own sound files. (For more detailed instructions on how to use Audacity go to Essential Audacity from Efx-Tek.com! or Audacity Tutorials! Just get a microphone that will plug into your microphone jack on your computer (I use a microphone that came with a singing Douglas Fir christmas tree that I hacked into a Halloween prop-it has a small plug on it like for a set of headphones which is the size of plug that is on my computer). Click on the record button in Audacity then talk, sing, scream, record sounds outside, dogs barking, chains, doors opening or what ever you want. Then "export as" and this will let you save your sound as an mp3 file. Don't worry you can change and warp the sound later. But at least now you can open the same sound and change it in different ways so you may have multiple different sound files that you have created all from one file. For example if you have a sound file of a dog barking you would open that files in Audicaity then you could change the tempo and/or speed to make it a deeper bark then save the file. Reopen the same original file again but, this time slow the speed down and change the pitch, and save the file again now you have a comoletely different sounding dog bark. Again reopen the original file and cut some of it out, speed it up, add some echo or whatever effect you like making another different sounding file. That is how you can take 1 file and make many different ones from it. Of course you can spend a lot of time and add or change many different effects to really change the sound it just depends on how much time you want to spend on it and how "different" sounding you want the file to become.


(To learn more about Audacity and how to use it go to Halloween Prop Shop or Audicity Tutorials Pages!)






Candy Corn/Pumpkins, Pumpkin-Beef Chili & Dinner in a pumpkin





Candy Corn Adapted from CDKitchen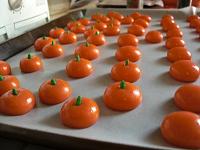 Candy Corn Adapted from CDKitchen
Makes 1 3/4 lbs. of candy (recipe can easily be doubled)
1 c. sugar
2/3 c. white corn syrup
1/3 c. butter
1 tsp. vanilla
2 1/2 c. powdered sugar
1/4 tsp. salt
1/3 c. powdered milk
food coloring (optional)

1. Combine sugar, butter, and corn syrup in pan and bring to a boil stirring constantly. Turn heat to medium and boil 5 minutes. Stir occasionally. Remove from heat and add vanilla.
2. In a separate dish, combine powdered sugar, salt, and powdered milk. Add all at once to the mixture in the pan. Add food coloring if desired. Let mixture stand until slightly warm to touch, about 20 minutes (though could take longer depending on the temperature of your kitchen).
To shape into traditional kernel pieces:
1. Divide dough into 3 equal pieces; place each piece in small bowl.
2. Add several drops of yellow food coloring to one piece of dough. Using plastic gloves to protect hands, knead food coloring into dough until smooth and color is even. Repeat using red and yellow food coloring (to make orange) with second piece. Leave last piece white; knead dough until smooth.
3. Roll each piece into a thin rope (donít roll too thin or dough will break). Push three ropes together to form long rectangle. Using sharp knife, cut ropes into triangles. Using fingers, shape candy corn as desired.
4. Store at room temperature in airtight container, separating layers with pieces of waxed paper to prevent sticking.
To shape into mellowcreme pumpkin pieces:
1. Add several drops of orange food coloring (or a bit of red and a bit of yellow--that's what I did!) to dough. Using plastic gloves to protect hands, knead food coloring into dough until smooth and color is even.
2. Roll out dough into small balls and set on sheets of wax paper.
3. Push a small green candy sprinkle into top of each ball for a stem (I used the holly leaves from a Christmas holly berry and leaf mix).
4. Store at room temperature in airtight container, separating layers with pieces of waxed paper to prevent sticking.





Pumpkin-Beef Chili

2 c. fresh or canned pumpkin
3 lb. lean ground beef
2 cans red kidney beans
2 med. onions, chopped
3 cans cut tomatoes, 15 oz. each
2 T. chili powder
1/4 tsp. red pepper (optional)
2 T. sugar
1 tsp. salt
2 bay leaves
1 c. mushrooms (optional)

Brown ground beef and drain off excess fat. Put ground beef into a large pot. Add remaining ingredients. Cook on low for 1-2 hours. Serve with crackers, hot fresh bread or garlic bread. Serve with additional red pepper and chili powder for those who love hot foods.





Dinner-in-a-Pumpkin

1 medium Pumpkin
1/4 cup Onion -- chopped
1 1/2 lb Ground beef
2 T Soy sauce
2 T Brown Sugar
1 can Cream of Mushroom
1 1/2 cups cooked rice

Clean stringy pulp and seeds from pumpkin. Saute onion and ground beef. Add soup, soy sauce and brown sugar. Simmer for 8-10 minutes. Add cooked rice. Put meat-rice mixture into pumpkin. Replace lid. Place the pumpkin in a 13 x 9 pan. Bake at 350 for 60 min to 90 minutes until pumpkin is tender. Slice in quarters to serve. (I have also made this in winter squash.) From Ruth Ann in Nebraska